Always Connected, Always in Control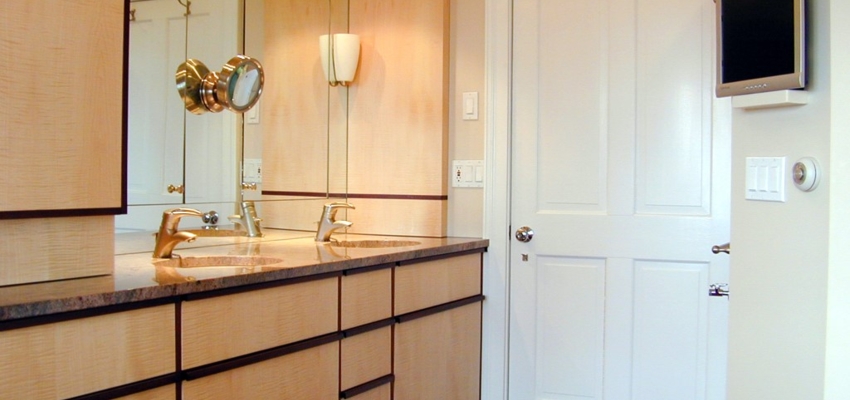 Brief explanation of the project, including scope of work in retail price:
This is a bathroom for the person who needs to be connected and in control, even in the shower.
It contains all the usual expected amenities, i.e:
Open Corian shower enclosure with his and hers solid nickel shower controls, two rain shower heads, hand spray, soaking bench, and heated shaving mirror
Sunken whirlpool tub with fiber optic mood lighting
African granite countertops with twin under mount Corian sinks
Custom Sycamore an Ebony cabinetry
Counter to ceiling mirror backsplash with lighted surgical 5X magnification mirror
Mirror doors concealing recessed Corian toiletry storage with units with integral electrical outlets
Australian Eucalyptus wood floors with inlaid Mahogany, Maple and Oak Mariner's compass
Corian walls and a barrel vaulted ceiling
In the new millennium bathing, opulence splendor is passé if you can't make stock trades and talk on multiple phone lines while in the shower or whirlpool.
With that in mind, for the 21st century bather this bath also includes a few extra amenities:
Built in touch screen computer monitor for those first thing in the morning stock trades or video tour of the grounds
Hands-free two line telephone for conference calling at any time
Complete digital and analog weather stations to stay up-to-date on the rain in Spain or the temperature on the patio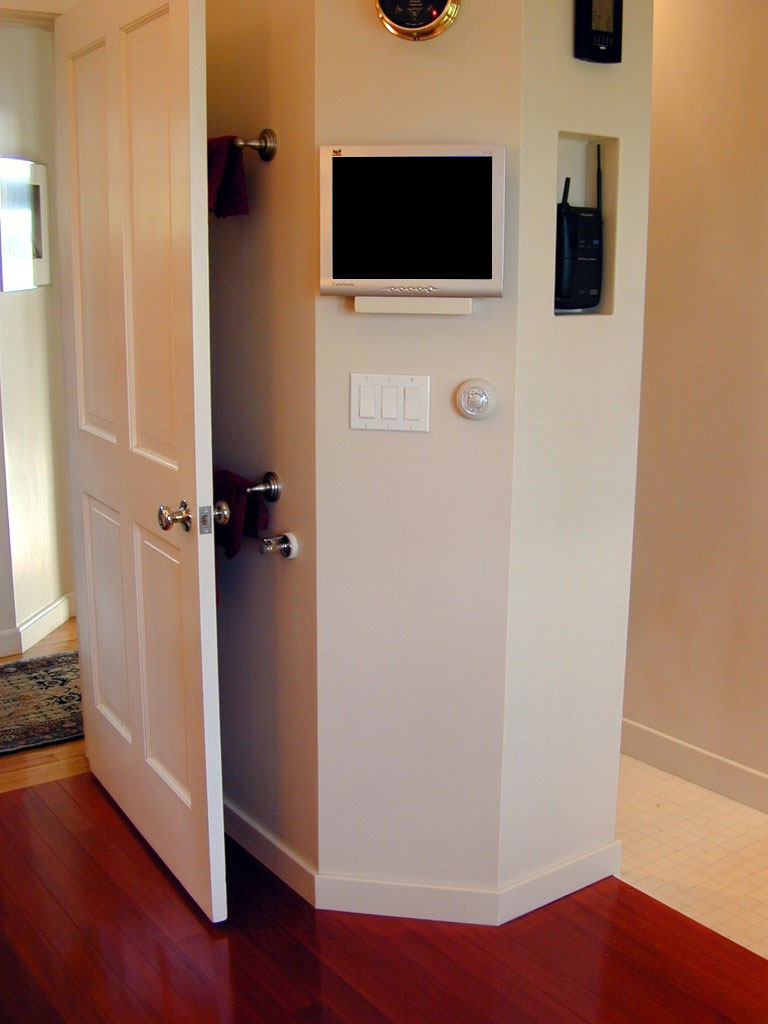 Unusual constraints or challenges of the project:
All this is in a 10' x 14' room
Creative solutions to the challenges:
The entire shower enclosure and all the walls of the bathroom are covered with Corian solid surfacing material to eliminate the possibility of water infiltration to avoid the use of wall tile.
Overall results of the project:
The new bathroom combines the timeless beauty of wood and granite with other high tech materials and electronic components to give the owner is exactly what they wanted.